World Amateur Radio Day (WARD) is the birthday of the International Amateur Radio Union (IARU); the worldwide federation of national amateur radio organizations.
WARD is also an opportunity to celebrate Amateur Radio and to raise its visibility through outreach activities.
"On World Amateur Radio Day, all radio amateurs are invited to take to the airwaves to enjoy … global friendship with other amateurs, and to promote [their] skills and capabilities to the public". 1
Special Theme for World Amateur Radio Day 2023
The Intertional Amateur Radio Union announces that Human Security for All, HS4A, will be the theme of World Amateur Radio Day on 18 April 2023. For the first time, the United Nations Trust Fund for Human Security and the World Academy of Art and Science are partnering with IARU in a campaign to highlight the role that amateur radio plays in addressing the world's most pressing needs. 2
How to participate
Radio amateurs—either as individuals or as groups—may wish to consider these activities (suggested by ARRL) for participating in, or promoting their hobby through, this event.
Get a station on the air! Create your own personal "event" to talk about amateur radio to others, including family and friends

Find out more about World Amateur Radio Day by checking the IARU website and other Resources listed [at http://www.arrl.org/world-amateur-radio-day]

Create and hold a special net or on-air event on World Amateur Radio Day to raise the level of attention for the celebration, and to encourage other hams to talk about our hobby. Consider creating and offering a commemorative certificate for contacting your special activation. It can be an electronic one as these are cost effective

Get the word out! If you are an ARRL Public Information Coordinator, Public Information Officer, or responsible for radio club publicity, send a press release and conduct some public relations outreach to highlight the day and/or events. Talk about all of the activities radio amateurs have continued to support during the pandemic, and how amateur radio serves our communities. Find recent examples of amateur radio in-the-news at www.arrl.org/media-hits

Promote your personal World Amateur Radio Day activity(ies) on social media platforms like Twitter and Facebook by using the hashtag #WorldAmateurRadioDay. Make sure you send it to various clubs, reflectors, and media 3
Would you like to know more?
The IARU World Amateur Radio Day page presents historical context for this event and discusses the special two-week on-the-air event (April 11–25) for WARD.
The ARRL World Amateur Radio Day page includes links to resources and public relations / outreach materials.
Find on-air WARD events by searching the ARRL Special Events Station database for World Amateur Radio Day; or through the hashtags #WorldAmateurRadioDay, #hamradio, or #ARRL on social media.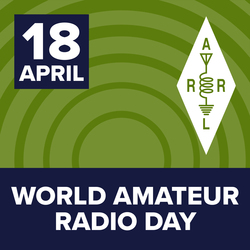 About IARU
The International Amateur Radio Union (IARU) is the worldwide federation of national amateur radio organizations. The membership of the IARU consists of more than 160 member-societies in as many countries and separate territories.

The IARU was founded at a meeting in Paris in 1925 as the international representative of the Amateur Radio movement. At the time the "short waves" were just beginning to be understood and to be exploited for global communication using power levels and antennas that were within reach of private individuals operating from their own homes. These radio amateurs needed an organization to coordinate their activities and to be their voice at international conferences. 4
Learn more about the IARU's history on their About Us page.
IARU Website

IARU Contact

IARU Wikipedia page